Come groove to some blues
Saturday August 19th
The Capital Fair. with co-sponsor the Ottawa Blues Society, presents the Ottawa Capital Blues Revue at the Rideau Carleton Casino, future home of Hard Rock Ottawa.
Jimmy Cochrane
2:00 PM – 3:13 PM
Jimmy Cochrane has been a performer for over 28 years. He can play to the smallest of venues, to large house stadiums. Jimmy is a singer/songwriter/producer and released his first CD "Busted" in 1998.https://www.youtube.com/@jimmycochrane4468/videos
He has played various venues in Ottawa and throughout the rest of Ontario and Quebec and toured throughout Northern and Western Canada. Jimmy has performed over 4000 shows during his career. Jimmy always keeps the audience entertained and is always paying attention to detail. With his quick wit and his confident stage presence he is a "True Entertainer" and not just a mere guitar player.
Al Wood & The Woodsman
3:45 PM – 5:00 PM
Al Wood is a multi-talented performer and songwriter with a deep reverence for the blues and traditionally based roots music.
Al Wood and the Woodsmen are a double barreled harmonica-driven blues band. The Sound meshes an obvious respect and love for the blues with fresh thematic spins that unify audiences without losing the edge.
Wood's versatility delivers a personal flare by capturing the Chicago style blues traditions and merging a journey of hard core real country, melodic jazz with a diverse array of other influences.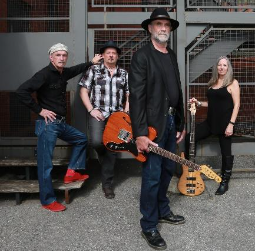 Murray Kinsley & Wicked Grin
5:30 PM – 6:45 PM
Reviewers have described this internationally touring, Maple Blues Award winning band as "stripped-down, hellaciously rockin' new blues with the distinctive voice and guitar-work of Murray Kinsley and a rhythm section that swings with reckless, casual precision". 
Much of Wicked Grin's success is based on Murray's stage presence and his ability to connect with and move audiences – this is what he lives for. He firmly believes that while his music is "roots rock" based, he can still deliver a message that will resonate with modern audiences, posing questions while encouraging them to dance and party on.
Murray Kinsley and Wicked Grin were awarded the 2014 Maple Blues Award for "New Artist" and were a semi-finalist at the International Blues Challenge in Memphis, January 2019. Their latest album "Murder Creek," released October 2018, has earned widespread industry acclaim and was a semi-finalist for the IBC Best Self-Produced CD Award.
Bassist Laura Greenberg has twice won the Maple Blues Award for Bass Player of the year.
LH Express
7:15 PM – 8:30 PM
With a number 1 Album on the "Roots Music Report: Top 50 Canada Album Chart" for "Painting Stars" (2023), a Sapphire video award in 2020, a top 5 Album on the "Roots Music Report: Top 50 Canada Album Chart" in 2019 for "Catch The Westbound", and a nomination for "Best New Act" at the 2018 Maple Blues Awards, the LH Express is a soulful, fun-filled and electrifying musical ride!
The LH Express have opened for artists such as The Dave Matthews Band, Legendary bluesman Robert Cray, Australian bassist Tal Wilkenfeld of Jeff Beck fame, The Down Childs Blues Band, and The John Butler Trio.
Jesse Greene Band
9:00 PM – 10:15 PM
Jesse Greene's talent and creativity draw from a diverse musical pallet, including blues, folk, jazz, classical and world music. Her complex and flowing melodic lines aided by her spirited and flawless execution can take the listener on a unique musical journey. With a rich and inspiring bluesy voice, she creates the perfect complement to her strong original songs, and her eclectic renditions of classics. Jesse's welcoming and heartfelt presentation make her performances a very special experience for each member of her audience. Jesse Greene is a driving force on her own as well as an enigmatic player, writer, and vocalist. The Jesse Greene Band won the Ottawa Road to Memphis competition and were finalists at the International Blues Challenge in Memphis. With multiple Bluesfest performances over the years and her blues hit Mojo Man that made and stayed in the Dawg FM top 20 for over a year, she is known as a guitarist with deadly chops and a voice full of soul.